This is my first fully functional AutoIt script, I really like how it came out.
Special thanks to Tvern for his help!
Episode Selection Choices:
Randomize an Episode
Choose an Episode from a drop-down list
Description shown in a edit box when selected.
Screenshots:
Starting GUI
Random GUI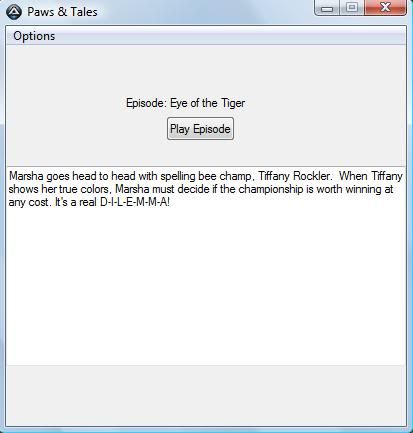 Selection GUI
Selection GUI 2
Player

Source for downloading Episode Names, Links & Info
Download Episode Names & Info.au3
2.28K
153 downloads
Source for the GUI/Player
Paws & Tales Mini-Player.au3
4.57K
146 downloads
Let me know what you think, if anyone here even knows what Paws & Tales is
If you have kids, try it out, they may enjoy it
(It is a Christian radio, but most of the episodes don't put a huge emphasize on religion)
Edited by Damein, 03 December 2010 - 02:32 AM.