Duplicate Files Finder

- MD5 Hash CheckSum
Someone in the support forum was pointing to the Xstandard MD5 Hash COM object.
For those of you who don't know what a MD5 Hash CheckSum is :
In cryptography, MD5 (Message-Digest algorithm 5) is a widely used cryptographic hash function with a 128-bit hash value. As an Internet standard (RFC 1321), MD5 has been employed in a wide variety of security applications, and is also commonly used to check the integrity of files. An MD5 hash is typically expressed as a 32-character hexadecimal number.

MD5 was designed by Ron Rivest in 1991 to replace an earlier hash function, MD4. In 1996, a flaw was found with the design of MD5[citation needed]; while it was not a clearly fatal weakness, cryptographers began recommending the use of other algorithms, such as SHA-1 (which has since been found vulnerable itself). In 2004, more serious flaws were discovered making further use of the algorithm for security purposes questionable.

From Wikipedia, the free encyclopedia
Well this would be an example on how to use the CheckSum to find duplicated files or Scripts on your system :
Download here
XStandard - MD5 Com Object
This small application is my first using the new syntax of 3.2.9.10.
It contains most of the extensive functionality that AU3 has to offer :
- DLLCalls
- SQL
- In Memory Database
- COM object
- RegisterMsg
- Native AU3 functions
- ...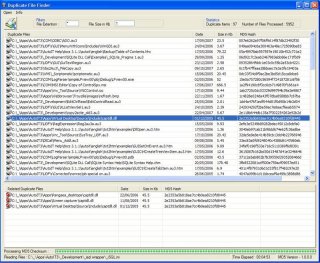 DuplicateFiles_MD5_SQL_New.au3
19.45K
1445 downloads
Au3 - 3.2.13.13 version and higher
DuplicateFiles_MD5_SQL_New.au3
19.56K
944 downloads
The speed of the application is more than reasonable.
It even scans your server if needed.
Enjoy finding duplicate scripts, audio, zip, exe, ... files
Enjoy !!
regards,
ptrex
Edited by ptrex, 14 September 2012 - 09:01 AM.