Update 3-17-2010
Here the latest of my
FTP
Explorer. Its probably going to be a while before I post anything else for this project. Even though this project has come a long way from when I started it, I don't like the direction its heading. I'm really starting to see what Valiks always taking about with global variables being bad and creating interfaces that handle different sections of the programs. Right now I have so many global vars, and anytime I want to change something it takes ten times more time updating the rest of the script then it did to write the actual change. Anyway, I got to do something because its becoming not fun anymore. And who wants to have a hobby thats not fun?
Btw this is written to work with v3.3.6.0. Changes:
- Added Up/Down Icons for queue list. (Thanks for idea Zedna)
- Made Changes to Richedit Functions. Now more colorful.
- Each listview and richedit are automatically given focus when mouse hovers them.(going to make it optional in future)
- Created a main icon for script and back buttons.
- Rewrote main
FTP
Navigation fuction. Major performance increase.
- Added function that sets back button tooltip to the directory it will navigate to.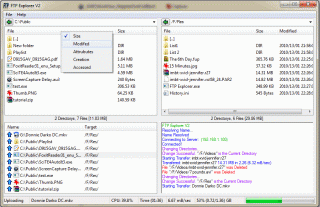 FTP Explorer 3-17-10.zip
80.74K
759 downloads
Update 1-27-2010
Alright so here is the latest update for my
FTP
Explorer. If you would like to compile it use the scripts in the compile folder I made. Those scripts have been Obfuscated to remove a lot of unused functions. Makes a huge difference in file size. As always, please let me know if you have any kind of problems. Written to work with v3.3.4.0. Some of the new additions that I have been working on are:
- ability to abort transfers
- ability to maximize
- New right-click menu for selecting columns views (Size, Modification Date, Creation Date..)
- automatic Queue List restore. (also restores your navigation history)
- estimated finish time for file transfers
FTP Explorer 1-27-2010.zip
71.83K
417 downloads
Update 1-10-2010
Well I have done a lot of work to this since the last one. One of the biggest features is that it now uses a second process to handle the uploading and downloading (Thanks Yashied). The second process creates its own connection which allows you to continue navigating while you have tranfers going on. Some of the other things that I have been working on for it include right-click menus, RichEdit status box, status bar, history ini to keep track of previous connections and info, history combo boxes that you can type directory's in and navigate stright to. I Still have a some more ideas to implement but thought I would post what I got to see if I could get some feedback. Any opinions, ideas or problems, please don't be shy to drop me a line
This is written to work with v3.3.2.0.
FTP Explorer 1-10-10.zip
19.25K
293 downloads
Initial Release
Here is another
FTP
Explorer program I have been working on. Its not quite finished but close. I still have a couple things to do but wanted to show. The new beta is needed to run this. Special thanks go to Prog@ndy for his Icon functions and _
FTP
Ex udf. Please let me know about problems you experience, or recommendations. Thanks For Looking!!
FTP_Explorer.au3
43.41K
891 downloads
Edited by Beege, 17 March 2010 - 06:52 PM.