MemStats
Web Based and GUI

Nice little script I made to show you how much RAM is being used and how much is available. I plan on using it to see if I need more RAM for Vista. My computer came with 512 MB of shared RAM between the graphics card and the rest. I should be getting the upgrade in the mail soon.
It also has a web based feature, so that you can view your RAM specs from any browser, and clear it!! Very useful for servers.
Enjoy!


News:
Added Page File usage
Added tray hover stats and fixed my silly mistake

Added a Reduce Memory Usage button
Added web based version
Added a few screenshots
Added very simple password protection
Added Defrag RAM
Made some changes
Made it look nice!
Added progress bars

Downloads:

Web Based Version:
Download
-Requires web based AutoIt
-Has some level of security, password protect (change in config.ini to whatever you want)

Screenshot:

Main page: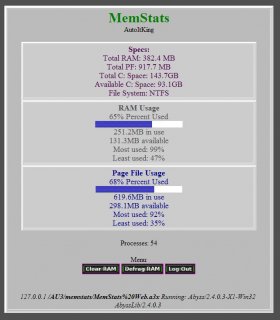 GUI Version:

MemStats_GUI.au3 5.24K 425 downloads Downloads: 100+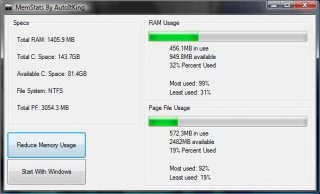 Edited by AutoItKing, 17 June 2007 - 09:45 PM.