---
---
Overview
Unfortunately, due to the nature of scripting languages some parts of AutoIt are often mistakenly labelled as malware or marked as unsafe by Microsoft SmartScreen. This is usually corrected quickly by the anti-virus vendors but can cause false warnings until the definitions are updated.
Digital Signatures Used
Most executables and installers supplied from this site will be signed by AutoIt Consulting Ltd. To verify the signature right click on a download files and select the Digital Signatures tab and verify that the executable has been signed.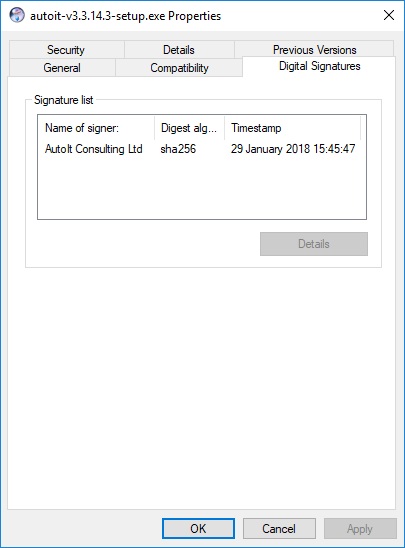 SmartScreen Prompts During Installation
When running the AutoIt installer – especially if it was downloaded using Microsoft Edge or Internet Explorer – you may get some false positive warning messages. These warnings usually occur shortly after a new release of AutoIt until the various vendors fix their whitelists and definitions. This section shows how to respond to these warnings in order to install.
The first screen is the Windows protected your PC blue box:
You should click the More Info text to show the digital signature:
Once you have verified the publisher as AutoIt Consulting Ltd you should click Run anyway to launch the installer. The installer requires administrative rights to install into Program Files, depending on your User Account Control (UAC) settings you will now get the following prompt: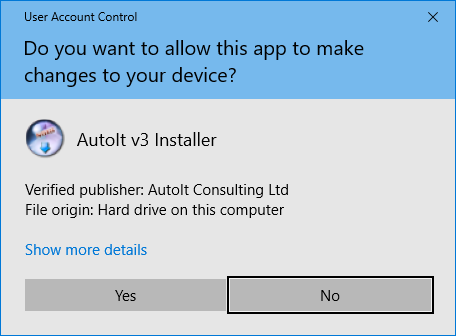 Click Show more details to again verify the publisher and the click Yes to allow the installer to start.
Other Resources
The AutoIt installer being labeled as malware is incredibly frustrating for the AutoIt community. Please help by contacting Microsoft and/or other Anti Virus vendors to report false positives. A list of vendors and contact links can be found on our wiki pages.
---
---