HMW - Hide my Windows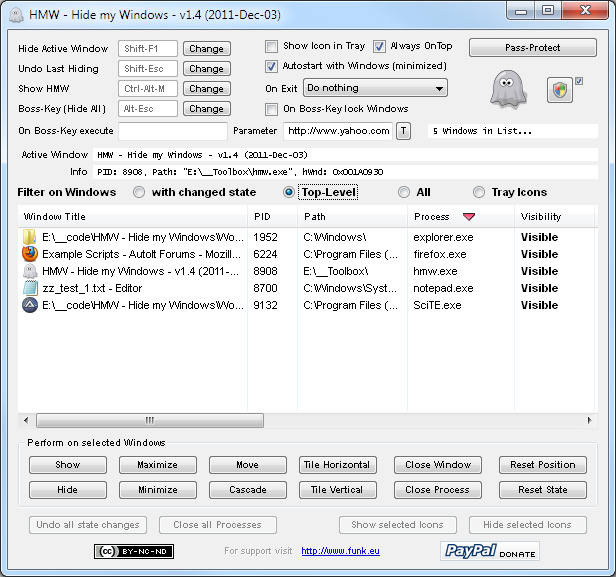 Current Version:
v1.6 (2012-Jan-02)
HMW is a free program to stash away the Windows on your desktop. With HMW you can set any program Window as hidden, while the program itself will run silently in the background. Additionally all the Hotkeys used can be customized to your needs.
[*] With HMW you can improve your "Visual Privacy". No-one looking at your desktop will see instantly what programs you're running anymore.
[*] You can hide away programs which have long processing runs, cluttering your desktop and impairing the overall usability.
[*] HMW is fully portable, the settings are stored in a "hmw.ini" file created in the scriptdir.
It works fine on my XP-32bit & Win7-64bit machine. If you find bugs please let me know.
The source and executable can be downloaded from my site:
http://www.funk.euKudos to
Ascend4nt, Prog@ndy, UEZ, Yashied, Tuape & wraithdu for parts of the code.
Please let me know if you found some piece of code in the source for which I forgot to mention a credit.
Enjoy, let me know what you think of HMW and with Best Regards
Edited by KaFu, 02 January 2012 - 11:20 AM.