AutoIt Windows Screenshooter
Key Features:
takes easily a screenshot from any visible window
capture any region of the desktop incl. freehand capturing
capture GUI controls and GUI menus separately
capture a marked area every x seconds for a duration of y seconds
capture to AVI file
takes a screenshot from web sites (available only on Vista+ os and when

Aero is enabled

)
put images to clipboard to paste to other applications easily
color picker
save image in different formats and also to PDF!
add timestamp to saved images
simple image editing options: greyscale, b&w, invert, rotate +-90°
send image to printer and default email client
preview of captured screens incl. zoom option
multi monitor support
display pixel color under mouse
ruler
basic image editor (paint, highlight, ellipse, rectangle, text and some graphic FX
watermark captured image
no 3rd party tools or DLLs used - pure AutoIt!
fully portable - no installation is needed
To do:
capture content of scrollable window/control
capture cascaded menus
Due to DllCall("User32.dll", "int", "PrintWindow", "hwnd", $hWnd, "handle", $hMemDC, "int", 0) limitation some windows cannot be captured properly (GDI+, ProgDVB, etc.) but can take screenshots of hidden windows. One workaround is to use full screen capturing (F11/F12) or "Grab Screen" function! Or try double click with rmb on listview items (beta).




Download source code (2494 downloads previously): AutoIt Windows Screenshooter (701kb)

You are not allowed to sell this code or just parts of it in a commercial project or modify it and distribute it with a different name!


Download compiled Exe only: 4shared.com / Media Fire / Softpedia (1.37mb)

Distributing copies of the program in compiled format (exe) must be free of any fee!



-----> click here to Donate!




It is designed for Vista+ operating systems with AERO enabled! E.g. on WinXP machines some functions are not working properly and might crash the application!


Be aware to deactivate DEP or add Windows Screenshooter exe to the exception list otherwise it will hard crash on some functions, e.g. About Intro, image editing functions. Further AV scanners may a negative impact the execution of compiled exe!



Main GUI:

About Intro: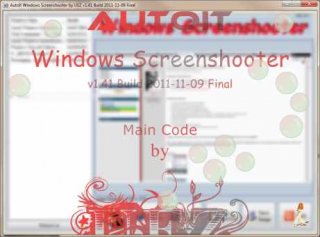 Basic Image Editor: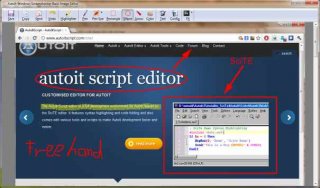 Watermark: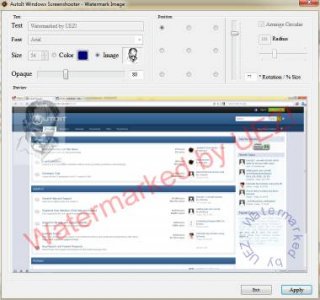 Click link for an enhanced version of Watermark Image.




Credits:
main code by UEZ
additional code (alphabetical order) by AndyG, Authenticity, AutoItObject Team, Eemuli, eukalyptus, funkey, _Kurt, martin, monoceres, ProgAndy, taietel, TheShadowAE, trancexx, Ward, wolf9228 and Yashied!
Code is too long to post it here directly! Sorry.




Use following keys:

User your mouse to scroll preview window or

Numpad ↑ 8: Scroll preview window up
Numpad ↓ 2: Scroll preview window down
Numpad ← 4: Scroll preview window left
Numpad → 6: Scroll preview window right
Numpad +: zoom in preview window or mousewheel down
Numpad -: zoom out preview window or mousewheel up

F5: refresh Windows Name list
PRINTSCREEN: take screenshot from whole screen using PRINTSCREEN code
ALT+PRINTSCREEN:take a screenshot from active window using ALT+PRINTSCREEN build-in code
F10: Undo made changes with Image Editing function
F11: take screenshot from whole screen incl mouse cursor
F12: take screenshot from whole screen
Ctrl+Alt+F12: take a screenshot of active window using alternative screenshot functionality (beta). should work also for some games
!

Only available on Vista+ os: double click with rmb on list items to use alternative screenshot functionality (beta)!

When 'Grab Screen' is clicked you can hold down the ctrl key to switch to 'grab controls' mode. Control under mouse will be framed red.
ctrl + shift will take the screenshot of appropriate control. To capture GUI menues you can press rmb which simulates the lmb. When a menu is opened press shift additionaly to capture it.
Press and hold only the shift key to capture any region on the desktop using freehand capturing - release it so capture marked regions!
Or just mark resizeable area which you want to grab. Press CTRL key to grab marked area or right mouse button to capture the marked area every x seconds for a duration of y seconds.

When saving the image just enter the extension you whish to use (*.jpg;*.png;*.bmp;*.gif;*.tif;*.pdf). Big thanks to taietel for his PDF UDF!


Maybe it is useful for someone...


Any kind of comment is welcome.

Br,
UEZ


Change log:

Edited by UEZ, Yesterday, 02:25 PM.