Don't use this in production environment !
|

_Services_UDF v2
|
|
By Arcker
|
Run your script as a service
|
|_______________________________________
|
Updated on 02/03/2012
Best practices Updated 24/02/2012
Warning : 26/02/2012
New Version (v2 ) : 02/03/2012
|
Thx to ShminkyBoy, wraithdu, Udgeen and HolmesShelock for their great contributions.
Intro / History.
Hi,
Here is my _Service _ UDF
With this UDF, you can compile your autoit script and run it as service.
I've taken some functions already made by SumTimWong, seen here :
OpenScManager
and I've added mines for running as service.
Any comments are welcome.
Previous download for both was over 5000, that leads me to make an update.
Hope you'll like it,
Regards, Arcker
History
Update : 02/03/2012
Ok there was some problems that I've tried to fix :
- Running was not exiting correctly since cleanup was executed without checking if the main loop is stopped
- Send Signal stopped was sometimes send error, whereas there were no errors
- Too much function, i've reset those in one main "ServiceMain" function, as MSDN says. Now there are some parts that should ne remove. Main
Code should be included after $bServiceRunning
- Event has be stopped : too many $Running signal sent to SCM, and I've done that because the C++ example was done that way. Autoit cannot execute multiple thread so I've just remove those event, and when stop event is received, it just stops main loop.
Now the worst part :
In race condition, or not, the service doesn't stop well. I mean the main loop is break, but the process continues. So, as you can see,
the service main is executed by SCM
, not autoit directly, and I think that's the culprit. I'll try to post a request about this to autoit developers, but keep in mind that if it not autoit fault, or mine, so service will never be stable with autoit. Ive found a workaround by setting processclose at the end, it seems to work, but ... no problem with killing since your program is stopped, but then, i don't like this method.
edit : finally, i've added it and it seems to works well. But again, please report if you still encounter stop issue or something?
Now, see the updated example in page 1 to see the update. Respect the comments in code by not removing anything, and you service should run fine .... until stop
Todo :
I'll maybe add an option to execute a thread that just the service to be stopped. I've to do this in C++ then use trancexx udf, but maybe it's possible, and will improve stop service ability
24/02/2012 added threadsafe advice
27/05/2011 Thread safe functions added. ServiceExample_ThreadSafe uploaded to this method.
added HolmesShelock examples.
11/01/2010 Updated with best practices
Features
- Transform your application by adding few functions to make it compatible with SCM
- Examples show you how to make GUIs and so on ( I won't be responsible for security reasons. A gui running as service will have system priviliges. )
No more a feature. Don't use it.
- Event coded : not cpu consuming.
No more in v2 but cpu is still good.
Known Issues.
- Script sometimes crash when stopping. It should be fixed now but method used is not really ... clean. Please post if you encounter problems.
Howto.
Compile an example

Choose an appropriate location and copy the script here.

open a command prompt, and execute the compiled script with option –I

start / execute "services.msc" . You will see a service called "Autoit_service". you can execute "sc query" in a command prompt too.

Launch it : it will run the previous compile script. The main function will be executed after the service_init.

stop and relaunch the service as you wish.
Downloads

Main UDF (v2 ) with Constants ( thread safe , careful with dllcall )
Services.au3
141.27K
2403 downloads
ServicesConstants.au3
9.34K
1901 downloads
ServiceExample.au3
8.49K
2210 downloads
Note : 11/01/2010 Update by Wraithdu to work on Win7 ( Unicode optimised )
Note : 03/02/2012 Updated to v2, total rework. More stable. Should fix main crashes.
Examples / Session Change / v1 (lock, logon, etc)
By HolmesShelock. Awesome work.
Edit : this example doesn't use v2 method
SessionChange Service.zip
67.75K
2466 downloads
Example output to give you an idea
Plain Text
______________________________________
Log created: May 27, 2011 : 7:18:53 PM
______________________________________


May 27, 2011 : 7:18:53 PM [3144] >> Service started: Sessionchange
May 27, 2011 : 7:19:05 PM [3144] >> cbSize = 8 ,dwSessionId = 0


May 27, 2011 : 7:19:05 PM [3144] >> Session locked
May 27, 2011 : 7:19:12 PM [3144] >> cbSize = 8 ,dwSessionId = 0


May 27, 2011 : 7:19:12 PM [3144] >> Console session disconnected
May 27, 2011 : 7:19:12 PM [3144] >> cbSize = 8 ,dwSessionId = 0


May 27, 2011 : 7:19:12 PM [3144] >> Session unlocked
May 27, 2011 : 7:19:12 PM [3144] >> cbSize = 8 ,dwSessionId = 1


May 27, 2011 : 7:19:12 PM [3144] >> Console session connected
May 27, 2011 : 7:19:14 PM [3144] >> cbSize = 8 ,dwSessionId = 1


May 27, 2011 : 7:19:14 PM [3144] >> Session logged on
May 27, 2011 : 7:19:38 PM [3144] >> cbSize = 8 ,dwSessionId = 1


May 27, 2011 : 7:19:38 PM [3144] >> Session locked
May 27, 2011 : 7:19:40 PM [3144] >> cbSize = 8 ,dwSessionId = 1


May 27, 2011 : 7:19:40 PM [3144] >> Console session disconnected
May 27, 2011 : 7:19:41 PM [3144] >> cbSize = 8 ,dwSessionId = 0


May 27, 2011 : 7:19:41 PM [3144] >> Console session connected
May 27, 2011 : 7:19:41 PM [3144] >> cbSize = 8 ,dwSessionId = 1
Examples demos
Edit : No more supported in v2
Provide install parameters and so on
_Blank_v2.au3
2.71K
3956 downloads
by Spudw2k, optimised by myself to fit new code.
ServiceMenu, by ShminkyBoy
Note : only works on winxp, and no longer recommended. No support, and no question about it in this thread please.
Excellent example on how to make a GUI.
AServiceMenu.au3
12.25K
3467 downloads
Updated to 0.3 by ShminkyBoy
Synoptic
And for End Users, I've tried to explain the service control manager and the way it works with programs.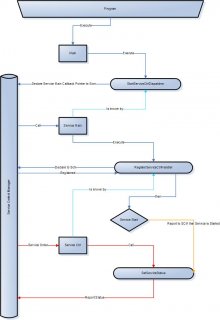 Best Practice, by arcker :/!\ please read this if you encounter stability issues
I've to rework on services.au3 to reflect threadsafe.
Threadsafe means each dll call must be on "dllopened" instead of calling dll directly
for example, if you need a function in kernel32.dll, you have to open it and call it after.
That's contraignant since a lot of integrated functions in autoit are not programmed this way.
If you take my services.au3, at the end, you'll see reworked function to handle this change. I've not tried
services for a while, since i don't need it for now, but i can help you only if your
provide whole script, to see how you call every functions.
I can tell that fix stability issues in callback, but i don't think it's need for your script, as far as you don't use callback.
Best Practice, by udgeen :
Good news! Probably i've found the working method of integrating service.au3 with other projects
I realised it after ASock.au3 project by Zatorg (please, sorry if im wrong) - ASock is asynck socket - tcp on event (uses ws2_32.dll).
Asock & sqlite didnt work together. The only reason for that was..._ArrayDisplay() func with gui!!! Ok. I made special sqlite.au3 without dependences. It works, but my udf seemed too be much heavy to use at another project.
Few weeks ago I returned to service.au3 and found TCP UDF, Event driven project based on ASock.au3. It seemed to work as example, but didn't work at all as service.
In my variant of service_example.au3 i posted msdn words about service_main procedure, that it must contain all global vars of project
I'll try to post that project as an another service_example.au3 in some weeks here. If it will works.
Some advice: use SysInternals Process Explorer (free gui based), or kill.exe from support tools to stop suspended service process. U can start-stop service even net start/net stop commands. Use file logging while debuging. No need to install-uninstall service after every recompilation: only stop, recompile, start. See, if it was suspended (while stopping) - kill process. The only reason not to stop service correctly i've found for today is unclean exit: opened sockets, maybe some dlls.
Edit : Arcker note: too bad, that would be too easy. unclean exit is not due to opened dll, but by some more internal exit checks or something.
FAQ.
Hey, I've got error 1063 or error 0, what does that mean ?
It simply means that you intend to run your script in scite or directly by executing it.
Your script has to be installed as service and run from it. Several ways to do it :
U have to combine all Globals in one place: for example at the the begining. U have to make it with other udfs too... silly work

Then sort Global Const and other Global statements. If u see something like global $x = 1 do that way: global $x leeve at top. $x =1 insert into module's (udf or project) Init func.

U have to do it even with standart udf... or use only necessary functions from it in your own include. Or... maybe u have another plan?

Try to build your project with modified udfs - does it works now? Hmm... But it have to Maybe later after everything will work fine i'll say "msdn is wrong, microsoft lies"... But maybe i'll say that microsoft - is not so bad, because autoit works in it
net start "yourservicename"
Services.msc
Use API provided _Service_start, Service_stop.
I want to make a GUI !
First, you can't in Win7 and Win2008. That's a good thing since it was a security breach before ( a gui thats run under system account .... mmmm )
For winxp.That's your choice. You have to consider Udgeen best practice and my advice.
Example by shminkyBoy provides a gui, but it's a proof of concept to prove that gui works.
I REALLY DON'T RECOMMEND to make a gui
SINCE it will be run as a Service with SYSTEM privileges
The only GUIs I did was for install progression, without any interactivity. Ban all functions that include files management.
I've to let the main function that way ? That's contraignant.
Hey, a script intended to run as service is special no ? Autoit is not C++. The only way to have a "Main" in autoit is to have a function.
If you find another way, please share it.
Edited by arcker, 02 March 2012 - 11:15 AM.