Hello Community,
here's my latest idea...
HRC - HotKey Resolution Changer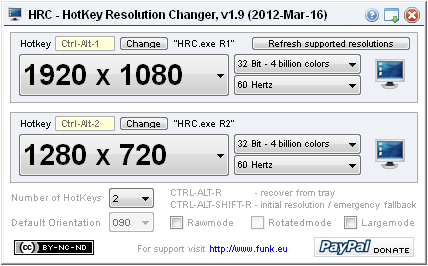 Current Version:
v2.1 (2012-May-16)
Do you also have a multi monitor setup and are annoyed with always having to change the resolution manually?
Then HCR will be as helpful to you as it is to me...
HRC - HotKey Resolution Changer
starts minimized (add shortcut to Startup to start with windows)
sits silently in the tray
define 2 to 9 shortcuts for different resolutions
switch resolution with just a keypress!
HotKeys can be set dynamically
HRC works fine at least on the XP SP3 and Win7 64bit SP1 machines I've tested it on. If you find bugs please let me know.
I share this program with NO WARRANTIES and NO LIABILITY FOR DAMAGES!
The executable and
the source
can be downloaded from my site:
http://www.funk.euHRC utilizes HotKey.au3 and HotKeyInput.au3 by Yashied, Kudos for those functions m8!
Enjoy HRC, and let me know what you think of it...
Best Regards
Edited by KaFu, 16 May 2012 - 10:33 AM.